Cleaning For The Coronavirus
Let's put it out of business!
Cleaning and applying disinfectants are what Paul Davis Restoration of the Northland does on an everyday basis. We have the tools to clean for the coronavirus, bacteria, microbial growth, and other pathogens.
Our trained technicians will clean your facility by appropriately applying disinfectants.
EPA and FDA approved against most common viruses.
Applied to specific standards.
---
Techniques That Differentiate Us From Traditional Cleaning Methods:

1. ULV Fogging
Pre-emptive cleaning approach that provides coverage for walls, floors, and other horizontal surfaces.
2. Fogging with Horizontal Surface Wiping.
All the benefits of fogging with the additional coverage for high touch areas like desks, computers, door and desk handles, and telephone handsets.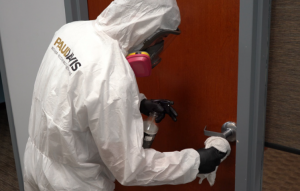 3. Fogging with Full Wiping
These are the industry-accepted steps when a confirmed case of COVID-19 has been found. This is a full cleaning and application of disinfectants to your facility.
Top 5 Questions to Ask a Vendor Cleaning For The Coronavirus
1. Do You Have Prior Experience With Biohazard Cleaning?
For over 55 years, Paul Davis has served people in their time of need with property damage from water, fire, mold, and storm damage; as well as our team of Recovery Specialists who are specifically trained to address viruses, bacteria, Microbial growth, and other pathogens.
2. Are your Employees Certified and Business Insured?
Our technicians are trained and IICRC (Institute of Inspection, Cleaning, and Restoration Certification) certified to respond to biological hazards like the coronavirus.
3. What Type Of PPE Will Employees Wear?
Proper Personal Protective Equipment (PPE) is a critical part of any job at Paul Davis. Technicians will wear full Tyvek suits, gloves, goggles, and respirators for cleaning the coronavirus, and disposed of in accordance with state and federal laws.
4. What Types Of Chemicals Will You Use?
Our trained technicians will clean and appropriately apply disinfectants to specific standards. These chemicals used are EPA approved against the most common viruses.
5. What Cleaning Techniques Will Be Implemented?
Paul Davis Restoration of The Northland offers several techniques that differ from traditional cleaning methods like Electrostatic cleaning, fogging with horizontal surface wiping and fogging with a full wiping which is the industry-accepted process when a confirmed case of COVID-19 has been found.
---
Viral and bacterial infections are a constant threat in the world today. A simple decontamination program will bring peace of mind and a sense of safety back to your organization.
This is No Time for Second Best ®
Call Today to Discuss Coronavirus Cleaning Options
(218) 727-8588